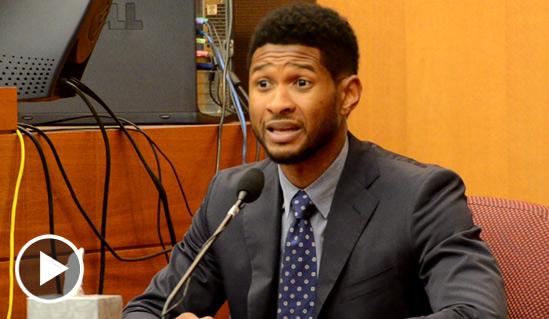 Singer Usher in court in Atlanta, Georgia crying and getting clowned




Court proceedings in the custody hearing of singer, Usher and his ex-wife Tameka Foster, has gotten downright ugly. The judge admonished the singer, real name, Usher Raymond, for referring to his ex-wife as Tameka Foster, rather than Tameka Raymond, as she chose to keep his last name, to ring that final ounce of celebrity out of him.

I'm sure if his name were Usher Madoff or Usher OJ Simpson or Usher Amin, she would have changed that name quick, fast and in a hurry, due to the deeds of the aforementioned men. The Judiciary Report deliberately refers to her as Tameka Foster, because she was mean to his fans online and dumped her long suffering husband to marry the rich singer, in spite of the fact she had three kids with him. Not cool.

Usher's drug use was brought up in court, as well as claims of him being a bad dad, which made the singer with a really bad haircut, cry in court. According to TMZ, Usher also revealed during the hearing that Foster tried to attack his new girlfriend, another cougar, record executive, Gracie Miguel.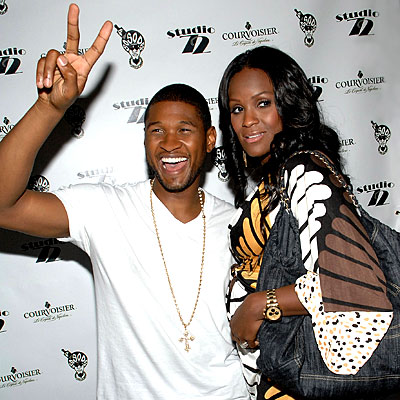 Usher Raymond and Tameka Foster




Initially Foster threatened Miguel stating, "I will f*** you up." However, he should have known who he was dealing with, as during another incident he should not left Miguel waiting inside his car, outside Foster's home he is paying for.

He stated Foster "wanted to fight" went up to the car outside her home and said to Miguel, "I'm gonna kick your a*s. B***h get out of the car. How dare you bring this woman into my subdivision in my house?" Foster, "Continued to spit. At this point she pulled the door open, tried to swing at her" and "threw a plate of food at the car" while he drove away.

As you can see, Foster is a delicate, refined woman and a real Emily Post (LOL). Usher should have listened to the Judiciary Report, which he and his label have read for years and not married Foster (

Singer Usher Files For Divorce

). Now he's crying in court like a girl and running from flying plates of food.